Healthy Eatery Honored for Two Items, Rising to the Top of Nearly 2,000 Entries This Year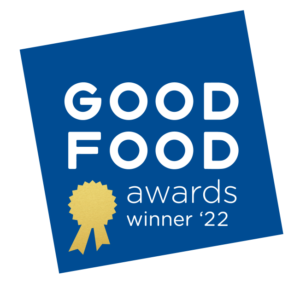 Bluffton, SC, January 2022 – The Juice Hive, the Bluffton-based healthy eatery and sister restaurant to The Cottage Café, Bakery & Tea Room, has once again been honored with two prestigious Good Food Awards. For the fifth consecutive year, The Juice Hive has been singled out by the Good Food Foundation for this honor – rising to the top of nearly 2,000 entries, and honored for foods that "represent the highest standards of quality, sustainability and social responsibility."
In its 12th year, the Good Food Awards is the first national initiative to recognize food producers based on both taste and sustainability criteria. Each year the national Good Food Awards honor the people throughout the country who make food that is delicious, respectful of the environment and connected to communities and cultural traditions. Out of this year's entries 244 exceptional crafters of food and drink from 30 states and Washington, D.C. were honored with a national 2022 Good Food Award.
As in past years, competition this year was fierce for a Good Food Award – in each category, three food crafters from each region (North, South, East, West and Central) receive the honor each year. Winners receive the distinction of the blue Good Food Awards seal — assuring consumers they have found something exceptionally delicious that also supports sustainability and social good.
The Juice Hive's winning entries in the 2022 Good Foods Awards are:
Korean Pickled Elephant Garlic (category: Pickles)
Watermelon Rind Chutney (category: Pantry)
In addition to these two winning entries, the Juice Hive also had an additional honor this year: their popular Superfruit Roll-up was named a Finalist in the competitive Snacks category.
"We are thrilled to once again have been recognized by the Good Food Foundation with these two Good Food Awards," said Leslie Rohland, founder and owner of both the The Juice Hive and The Cottage Café, as well as the Bluffton micro-roastery May River Coffee Roasters. "We have long been committed to creating, and serving, food that is not only delicious and healthy, but which is respectful of the environment, and are excited to offer a wide range of fresh, nutritious and sustainable menu options for our customers."
Samples of the winning entries will be available at the Juice Hive for a limited time. The Juice Hive, which also offers a retail portion providing healthy foods, snacks and specialty items, offers a wide variety of cold-pressed juices and smoothies, as well as all-natural soups, salads, wraps, breakfast sandwiches, noodles/ zoodles, bowls, and meatless burgers.
For more information about the 2022 Good Food Awards, and a complete list of this year's winners, visit https://goodfoodfdn.org/awards/winners .  In addition, for additional information about The Juice Hive, the Cottage Café and May River Coffee Roasters, visit www.thejuicehive.com, www.thecottagebluffton.com and www.mayrivercoffeeroasters.com